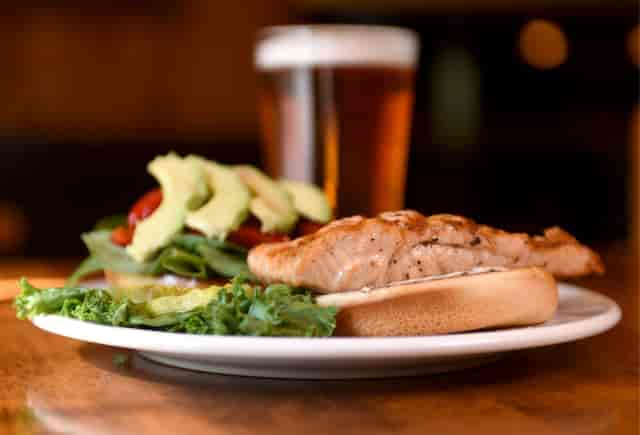 Menu
Become a VIP
Receive updates on special events, new menu items, menu reviews, and more!
Menu
WEEKLY SPECIALS
Bricco Buckets
Perfect for sharing with old friends while making new memories. Buckets contain 6 beers. Guests may choose which bucket they prefer, Platform Basic Lagers, Budweisers, Michelob Ultras, or Coronas for $12. Upgrade to an IPA bucket (bartenders choice of 6 seasonal IPAS) or a White Claw bucket (bartenders choice of 6, guaranteed 3 different flavors) for just $18.
SALADS
ADD THE FOLLOWING TO YOUR SALAD:
grilled / blackened chicken 5 | shrimp 5 | salmon* 7 | filet medallions* 11
SANDWICHES
SUBSTITUTE:
pretzel bun 1
BEVERAGES
Bricco Restaurants are known for their extensive bar menus .
Longtime favorites include the Pink Elephant and Espresso, available at all locations.
Additionally, personalized and unique twists on seasonal cocktails crafted by your favorite bartender can be found at your favorite Bricco.
Our beverage program boasts hundreds of bottles of wines from all over the world, in a wide range of price points, many of which are available by the glass.
We invite you to try something new, or find your go to, when exploring our broad selection of domestic, imported and craft beers.
Ciders and meads, coupled with our ever changing seasonal and limited release brews, are sure to inspire.
Pub's Fall Cocktails
Jump into Fall drinking these new Pub favorites!
Bricco Classics
Bricco Classic Martinis, the ones you've come love
Whites By the Glass
Mionetto Il Moscato (Italy) 6
Segura Viudas Brut (Spain) 6
La Petite Perrier Sauvignon Blanc (France) 6
Avalon Chardonnay (Russian River) 6
A to Z Chardonnay (Oregon) 8
Von Wilhelm Piesporter Michelsberg (Germany) 6
La Garia Pinot Grigio (Italy) 6
Mont Gravet Rose (France) 6
Reds By the Glass
Crane Lake Cabernet (California) 5.5
Castoro Cabernet (California) 8
Red Diamond Cabernet (California) 6
Bogle Merlot (California) 8
Septima Malbec (Argentina) 8
Hob Nob Pinot Noir (France) 6
Splits / Half Bottles
Blanc de Bleu Sparkling Rose 187mL 9
Laurent-Perrier Champagne Brut  375ml 25
Zonin Prosecco (Italy) 187ml 8
Draft Beer Selection
16oz DRAFTS

*ASK YOUR SERVER ABOUT PURCHASING A GROWLER TO TAKE HOME!


ROGUE CHOCOLATE STOUT ON NITRO ABV 5.8% - $6

GUINNESS DRAUGHT (20oz) ABV 4.2% - $5

RHINEGEIST FRANZ ABV 5.4% - $5

*EINSTOCK ICELANDIC WHITE ALE ABV 5.2% - $5

*HOP TREE BENT TREE BROWN ALE ABV 4.5% - $5

TAFT'S SANTA'S BRIBE HOLIDAY COOKIE ALE ABV 6.2% - $5

MADTREE S'MORE GRATITUDE STOUT ABV 7.5% - $5.5

*R. SHEA'S ALIENS, HEARTS AND DOGS DOUBLE IPA ABV 8.5% - $7

GREAT LAKES CHRISTMAS ALE ABV 7.5% - $5

*COLUMBUS BODHI DOUBLE IPA ABV 8.5% - $7

*HOP TREE POLLEN IPA ALE (10oz.) ABV 7% - $5.5

MILLER LITE ABV 4.2% - $3

*MISSING MOUNTAIN ZWICKLE TRICKLE IPA ABV 5.6% - $5.5

MASTHEAD SLEIGH ALL DAY HOLIDAY PALE ALE ABV 7.5% - $5.5

SOUTHERN TIER WHITE CHOCOLATE RASPBERRY ON NITRO ABV 10% (10oz.) - $6

SOUTHERN TIER CREME BRULEE ABV 10% (10oz.) - $6



*DENOTES OUR FAVORITE TAPS
Bottles And Cans
YEAR ROUND BOTTLES/CANS
AMSTEL LIGHT-$2
BLUE MOON-$3.5
BUD LIGHT-$2.75
BUDWEISER-$2.75
CORONA-$3.25
GUINNESS-16oz CAN-$4
MICHELOB ULTRA-$2.75
MILLER LITE-$2.75
STELLA ARTOIS-$3.75
YUENGLING-$2.75
PLATFORM BASIC LAGER-12oz CAN- $3

SEASONAL BOTTLES/CANS
MELVIN DRY HOPPER'S GUIDE TO THE GALAXY IPA - $4.25
SWEETWATER 420 STRAIN G13 - $4.50
SIXPOINT RESIN-12oz CAN - $5
BALLAST POINT GRAPEFRUIT SCULPIN IPA – 12oz CAN - $4.25
BRECKENRIDGE VANILLA PORTER $4
SOUTHERN TIER 2X MILK STOUT $3
JACKIE O'S MYSTIC MAMA– 12oz CAN - $4
STONE IPA-$4
CIDERGEIST BUBBLES – 12oz CAN - $4
KENTUCKY BOURBON BARREL ALE- $4
TROEGS HOP CYCLONE IPA- 16oz CAN- $5
SAUCY B.F. HEFE- $3.75
HOP TREE POLLEN IPA-$4.5
HOP TREE IPA-$4.5

GLUTEN FREE
ANGRY ORCHARD CIDER - $3.75 
LIME WHITE CLAW- $5
RASPBERRY WHITE CLAW- $5
BLACK CHERRY WHITE CLAW- $5
MANGO WHITE CLAW- $5
LEMON WHITE CLAW- $5
RUBY GRAPEFRUIT WHITE CLAW- $5
LONG DRINK STRONG GIN AND GRAPEFRUIT COCKTAIL - $6
GF PLEASE BE AWARE THAT WE USE COMMON FRYER OIL 
*THESE ITEMS ARE SERVED RAW OR UNDERCOOKED, OR MAY CONTAIN RAW OR UNDERCOOKED INGREDIENTS.
CONSUMING RAW OR UNDERCOOKED MEATS, POULTRY, SEAFOOD, SHELLFISH, EGGS, OR UNPASTEURIZED MILK 
MAY INCREASE YOUR RISK OF FOODBORNE ILLNESS.

20% GRATUITY ADDED TO PARTIES OF 8 OR MORE